I, John Marsing, an Elder at Living Messiah Ministries am writing this questionnaire so my biases will exist at some level (hopefully a small level). I am the person living on site and have been tasked with implementing permaculture on the property. Ultimately all decisions (especially big ones) are made by the Leadership of Living Messiah.
This document was the results of following the instructions from the good people at RestorationAg.com and filling out their questionnaire.
---
---
Please describe your goals with the site. Be specific. The better you understand how your goal will look, sound, and feel, the more likely you will make it exactly what you want.
Include...
a. Include everything that you'd ever like to see done to or with the property
b. Include values that you wish to see fulfilled.
Your personal values are quite important.
---
Establish and develop the land for our Hebrew roots community.
Implement Biblical Permaculture. More details upon request.
Living Off Grid and leading a self sufficient life style;

Oriented to community lifestyle

Land Stewardship

As best as we can, following the instruction manual of life, the Torah.

Self-governance.

Implement permaculture practices
What are your desired uses of the property?
Place for Sukkot. Living Messiah is a Hebrew roots not-profit, non-501C3 religious organization and one of the things we would like to do is have a place to celebrate the Feast of Tabernacles (Sukkot). This is an 8-10 day event where we have in the past, hosted a place where like minded people can come together and honor this high holy day.

Permaculture show place in a high desert context.

A place for people to live full time in a rural community setting. This means developing small simple but efficient buildings for families that can leverage community facilities like centralized community kitchen, dinning area, showers and bathrooms, laundry, parking and worship center.
What do you need to produce to create and maintain the quality of life you want?
I don't know if we need a production amount to try to meet a "quality of life" level, we are more interested initially to support the community with good food and the opportunity to live in a rural environment with a community setting.
As time goes on and we find what's productive and the effort we put in it would be great to have the community be in a position to sell
the possibility of greater and greater production.
ToDo I am very open to suggestions.
What larger outcome is this part of? How does it fit into who you are and your major beliefs and values?
---
---
1. Who are the key decision makers involved with this landscape?
For this year, my daily routine is to try get the basic needs of what will be necessary to host a Sukkot. After that I want to exploit permaculture. We don't have a seasonal routine because we have only been on the property since October 2020.
What structures do you have and use the most for what purposes?
Main Area
South West portion of the property that's on a bluff (see pictures below)
Living Quarters: We have two older Mobile Holmes each has a kitchen and one bedrooms. They're parallel to each other and have a courtyard in between them.
Two 55' Cargo Containers: This also are parallel to each other creating a covered area for two cars. One of them contains our tractor that has a front loader and a back-hoe.
Two Camper Trailers: These are owned by two couples (Webb's and Cratties) that are part of the Leadership team. This is where they stay when they're here.
One 55' Cargo Container Very beat up. Contains material like number and flat pieces of metal
Large 6,000 gal. Water Container. I assume that's what it was used for, but it needs to be cleaned out and probably the inside lined with something
Corral There's 2,500 sq. ft area that was used for a corral that is mostly fenced off. This could be an area for a garden and/or chickens. The problem is that it's not very close to the trailers (definitely not zone A).
Mobile Home Trailer Frame Also in this area is the remains of mobile home trailer frame that we thought we could use for community bath rooms / showers.
Do you have/want livestock? What kinds and how many of each?
We do not have any livestock however the property is open range and the Rancher that has grazing rights to the property does. They are "Brangus" (Brahma and Angus mix). I would love to do Mob/Intensive Grazing to help build up the top soil (the 5th and final element of regenerative agriculture principles).
Initially I would like to use these open range cattle to accomplish this, but I don't know how realistic this is. The advantage is that I wouldn't have to own the cattle, but I would have to coordinate with the Rodriguez's (the people who have the grazing rights) to work something out. Otherwise I would like to pursue the possibility of getting cattle. It was suggested that Corriente might be a good choice, or maybe Criollo. See this YouTube video on a local rancher who has Criollo cattle. See Sky Island Brand / 47 Ranch.
How do you want to approach wildlife and varmints?
We have a fair amount of mule deer that wander onto the property and would want to keep them around even increase there population if that's realistic. If they had a healthy population it might make sense to harvest them (at least at the beginning).
There's also a pack of Javelina that come around every couple of weeks or so. I would think that any gardening would require them to to fenced off (the deer as well)
From a permaculture perspective, the site is in it's infancy. We have people come and visit and to help getting projects developed.
How might these uses change in the future (family and employment changes)
Being that Windmill Ranch was bought for the purpose of the community of Living Messiah, the future usage of the property could grow into many things that are in alignment with the beliefs of Living Messiah.
To answer this question, it becomes necessary to define family.
The property is not owned by an individual person/family but is held in trust and so the mission statement of the property, I would argue, has a far greater chance of living on in perpetuity as a land trust.
The definition of permaculture is that it is a culture that is permanent (i.e. long term). Biblical permaculture (a term I coined) is to practice permaculture with the power and authority gotten from rights found in scripture. Because success in permaculture requires that the skill, wisdom and knowledge of this practices needs to be ongoing. It seems to me that a community structure has great advantages over a typical family homestead setup because, amongst other things, you don't have all your eggs in one basket.
a. People living in a community environment might want to live on the Ranch inexpensively and be able to telecommute for there jobs.
b. Beyond just Sukkot, making the ranch a hospitable place for like minded people who want to visit the site for a while. I'm thinking of a private RV membership location.
c. A base camp for community outreach.
d. Start a nursery of native plants.
e. Start a trustee service that specializes in setting up or managing property that's held in trust for religious, not for profit organizations like Living Messiah.
f. I find Joel Salatin's concept of Enterprise Stacking very appealing. The idea is that an entrepreneur minded person can suggest an idea that could be a successful enterprise on the property. The acceptance of vertical stacking fiefdoms necessarily means that identifying potential future use of the property is unknown. So, if it makes sense, whatever it is, should be embraced if the elders agree it's a good fit.
g. Final thought. Love thy neighbor as thyself takes on a different yet powerful meaning when all the neighbors on the same page and the residents have been vetted to believe the same thing (keeping the Torah as best we can). The welcome sign for at the entrance of the property is "See how good and pleasant it is for brothers to dwell together in unity"
How are you currently powering or using energy on your site?
The property is off-grid so we rely on Solar and Wind, see pictures at and click the Audit button.
We also have generators to charge the battery bank and to run the pump for the well.
The two travel trailers have their own separate solar systems.
Some in the congregation leadership have suggested that we get connected to the grid (it is only about 1,000' away). I personally don't find that appealing given the fact that we live in sunny Arizona and the price of solar has become so cheap. There are other points I can make but I'll leave it at that.
---
III Site & Maintenance
---
40 Acres.
Since I want to do Mob / Intensive grazing having access to additional land would be advantages. I like Greg Judy's approach to leasing the land.
2. Land use history
Are you aware of the land use history? Logging, farming, pasture, etc.?
I think it was just open range for cattle. FWIW, Bisbee Arizona, a large copper mine, is located 5-10 miles to the North.
3. What kind of maintenance are you planning?
I'm not sure I can answer this question because it depends on how best to utilize this property in the context that it resides which will be largely dependent on the outcome of this RAD exercise. Do I wish to have as little inputs as possible in the long term, then yes. I find the 5 principles of redemptive agriculture very compelling and which to leverage to the max that which the Good Lord has given me to work with...the soil and it's biology, animals domestic and wild, sunshine (we got gobs of that) and water (a precious resource).
4. Implementation and maintenance - Personal Labor
How much of your own labor is involved in implementation and maintenance?
Most of if where it makes sense. For example, we have a tractor with a front loader and backhoe, but if an extensive landscaping makes sense (like swales) then hiring someone with the right equipment and experience would probably be the way to go.
Maintenance
Being that this is a community, it makes sense to delegate to members the on going jobs to maintain the property. If we embrace the idea of "Enterprise Stacking" then the maintenance responsibility will go to those that own that endeavor.
How much money and time is available to implement the design? To maintain it?
Money: This is our limiting factor right now. We called on our community to collect enough money to purchase the property (which we did in full Halleluyah) so having money to right now anyway is limited. Therefore we need to be more creative going forward so any suggestions are welcome. It's catch-22. If people could see the potential of quickly turning the dessert green and see the potential for production then it would be easy to ask and receive donations for the project.
Time: I'm living on sight and have no intention of going anywhere else at least for the foreseeable future. I want to teach Torah by creating videos, but I can do that onsite. My intent is to ask for donations to my Torah teaching ministry and direct as much as possible to the financing of advancing projects at the Ranch.
This map shows 160 acres with 40 acres of Windmill Ranch in the lower left
More maps upon request or see the instructions for the County GIS parcel map (section IV. Homework below)
Zooming out, here's a map of the Chihuahuan Desert which is where the Windmill Ranch is located.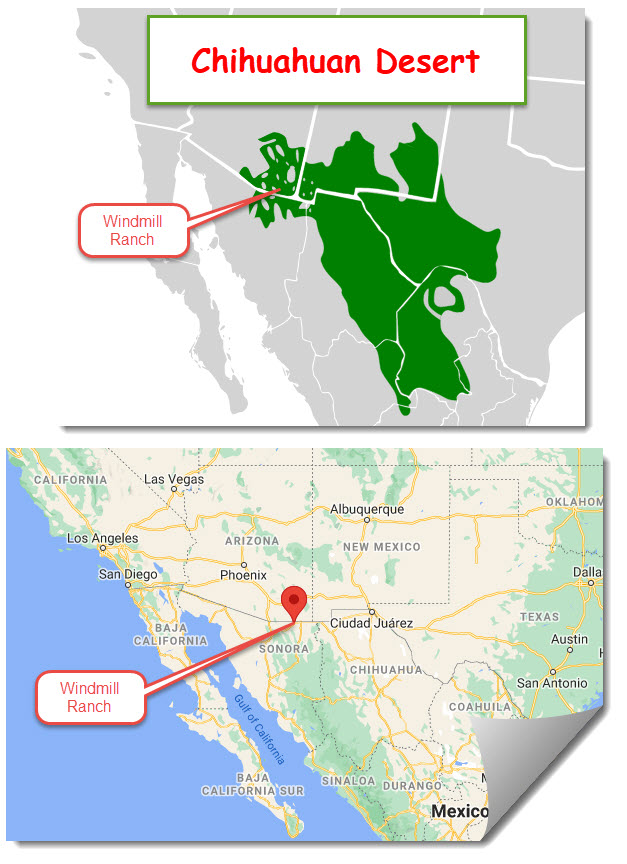 FYI, the pronunciation is the same as the Mexican wiener dog
Google Map between Tucson and Bisbee Arizona
Windmill Ranch is in the extreme South East corner of this map

What do you like about your site?
My thoughts
a. It's appealing to me to live in the high desert. At 4,700' it will still get hot, but not crazy hot like in the valley.
b. It's awesome that we own outright the property.
c. People can be here and live in relative comfort with all the necessary elements that require that (two dwelling places)
d. two wells (one working and the other one at the windmill just needs leathers replaced )
e. We are suppose to get 19" of annual rainfall which for the desert is pretty good (Phoenix gets 7")
f. With the wash going through the middle of the property I can see great potential to do some serious permaculture stuff (see below)
g. Building regulations in Cochise County in Arizona is one of the most liberal in Arizona and maybe even the United States.
What do you dislike about your site?
My thoughts
a. The wind. The property is on a bluff and so it gets a lot of wind. This isn't all bad because the bluff however is in the South West corner of the property and the prevailing winds comes from that direction. Also the two wind generators, although a bit noisy, do help supplement the energy needs.
b. Close too the Mexican border. The property is less than 3 miles from the border and I'm concerned that this could potentially be a big problem. We haven't had much of a problem yet, but the potential is there.
c. Distance from LM: were 200 miles away from the location of our congregation Living Messiah in Mesa Arizona.
Do you have any drainage or erosion problems?
There's some erosion coming off the road that leads to the property but not to bad. We created two swells that direct water off of the top of the drive way this could help and soak some water surrounding the trailers. We also have started to make some small check dams with the intent slow, spread and soak, but this needs more work. I need to find some native plant see that can help hold the tiny damns in place. Also it would be nice if we had some big rocks nearby to help in construction. Erosion is definitely a concern because the properties to the East and to the South East have areas where large 4' gullies have formed and blown out a lot of top soil.
Do you know where your sewer and leach field are or where your sewer lines cross?
Being off-grid we don't have sewer lines. I have a pretty good idea where one of the septic tank and leach field is located.
To the best of your knowledge, list or describe any additional constraints/beliefs/ non-negotiable aspects that you need for our team to be aware of that could impact the design process that have not already been described in your previous answers. Examples can be regions of the land that must be kept in a certain way, financial constraints, legal constraints like conservation easements and managed forest law contracts
The elders of the congregation have laid down a rough idea of where we would want to place various buildings in the future but nothing permanent. I would like to get some professional advice from the RAD Consulting team to view the property as a blank sheet so that your team can let the property tell you how to go about laying down the main frame permaculture design.
As a Hebrew roots congregation that attempts to follow the commandments in the Torah as best we can, it probably wouldn't be wise to grow unclean animals (pigs and rabbits are the most obvious). I know in Permaculture practices that pigs are a widely used domestic animal. They can be used to clear out an area of land that other animals wouldn't be as effective at. I don't think there's anything in Torah that technically says you can't have this animals but for sure you are commanded not to eat them. Therefore it would be wise to not even have them at all.
---
---
Please include the following documents or files (in the appropriate format requested) so that we can be better prepared for your consultation. Much of this content can be obtained through contacting your local USDA office, NRCS, USGS as well as your county zoning board. If you are not able to obtain this information, we can work with you to develop it as part of our services. (office rates may apply):
Topographical maps (PDF's, kmz's from Google Earth, lidar images, RTK renderings). These may be obtained through contacting your local USDA office and sometimes your county zoning board.
Features of this map
The contour lines shows a purple line could potentially collect a lot of water via swales
In the bottom left corner it show contour lines that form the mesa where the current living facilities are.
The yellow and orange dashed lines show the wash area.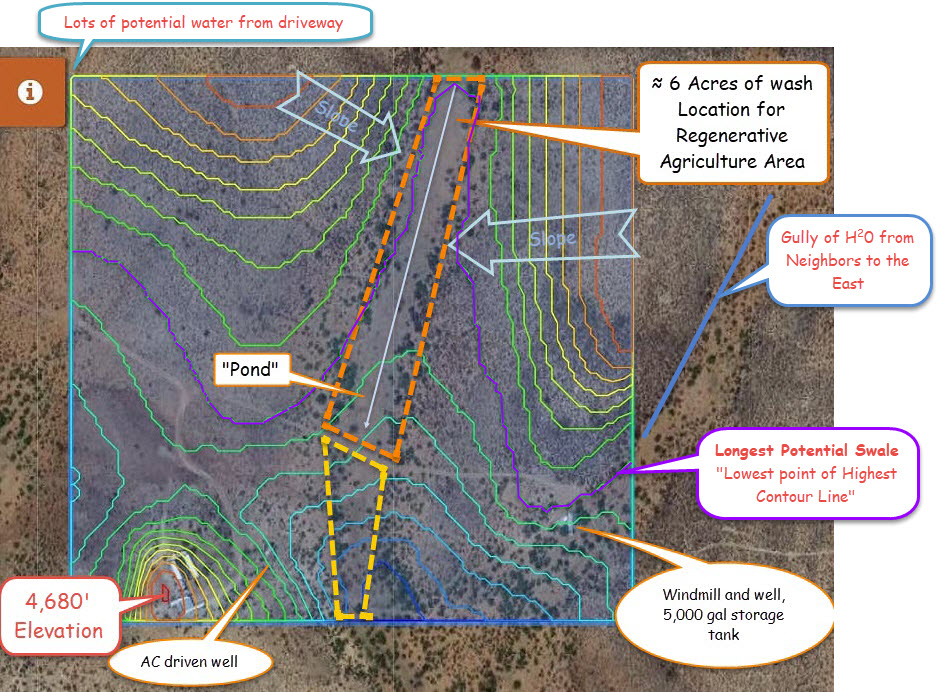 ToDo: we just had the property surveyed by a friend of the Congregation and am waiting on that document.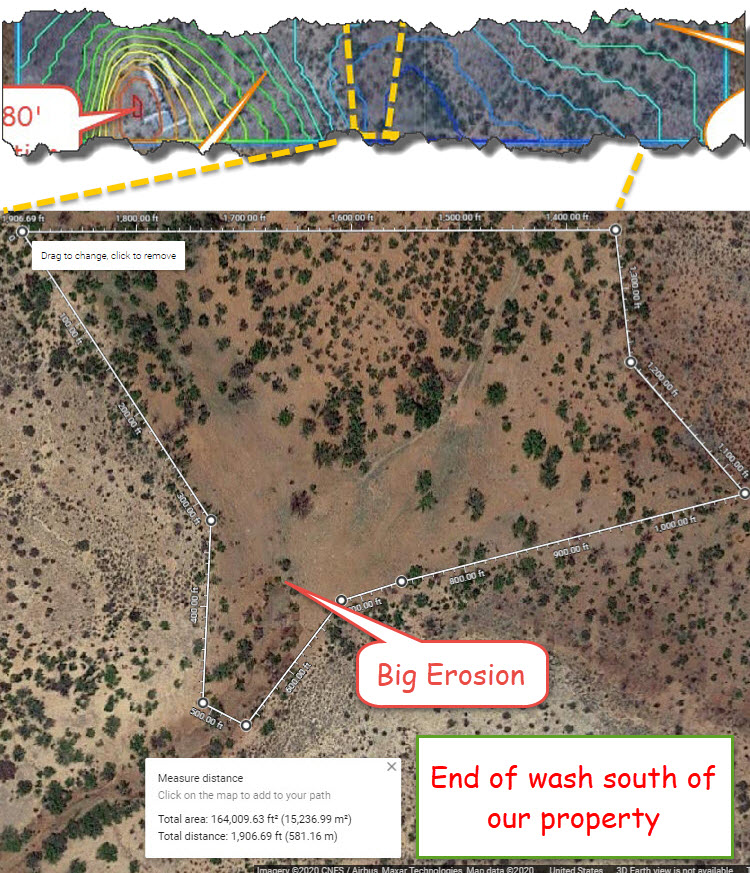 Soil maps (PDF's, USDA soil maps). These may be obtained through contacting your local USDA office, your state NRCS office or NRCS state soil scientists. You also may go online to Web Soil Survey (WSS) to obtain this information web soil survey
ToDo follow up on this

Here is what I found at this USDA link. The Douglas office is the one that is closest.

DOUGLAS SERVICE CENTER
640 E 10TH STREET
DOUGLAS, AZ 85607-2003
(520) 364-2001 ext 3; (855) 848-4340 fax
---
Here is what I found at this NRCS Link. The Douglas office is the one that is closest.

DOUGLAS FIELD OFFICE (Area 2)
6940 North Air Terminal Boulevard
Douglas, AZ 85607-6221
Phone: (520) 364-2001; Fax: (855) 848-4340

Serves: Hereford and Whitewater Draw NRCDs

| Name | Position | High | Office Phone/ Ext | Email |
| --- | --- | --- | --- | --- |
| Don Decker | District Conservationist | 520-368-3403 | Donald.Decker@usda.gov | |
Wild land Maps
Maps showing linkages to surrounding wild land
ToDo The Windmill Ranch is in the wild, so I don't know if I need anything else
ToDo There are no parks, rivers (except the wash) or lakes near by, so I don't know if I need anything else
Maps or descriptions of pre-European vegetation
ToDo: I don't know where I would get this information. I would definitely like to know because I would assume that choosing from this list would be a lot easier to grow here.
ToDo try out the new app I downloaded and see if I can identify all the types of plants currently on the property.
Legal parcel map or county assessor's map. These may be obtained through contacting your local county zoning board or county assessor's office.
a. Go to the Cochise County GIS website.
b. Check the I agree to the above terms and conditions dialog box and click OK
c. Type in 10139004D for the Parcel #
c. Click the Basemap Gallery button (top left corner, looks like 4 squares)
d. Click Image Gallery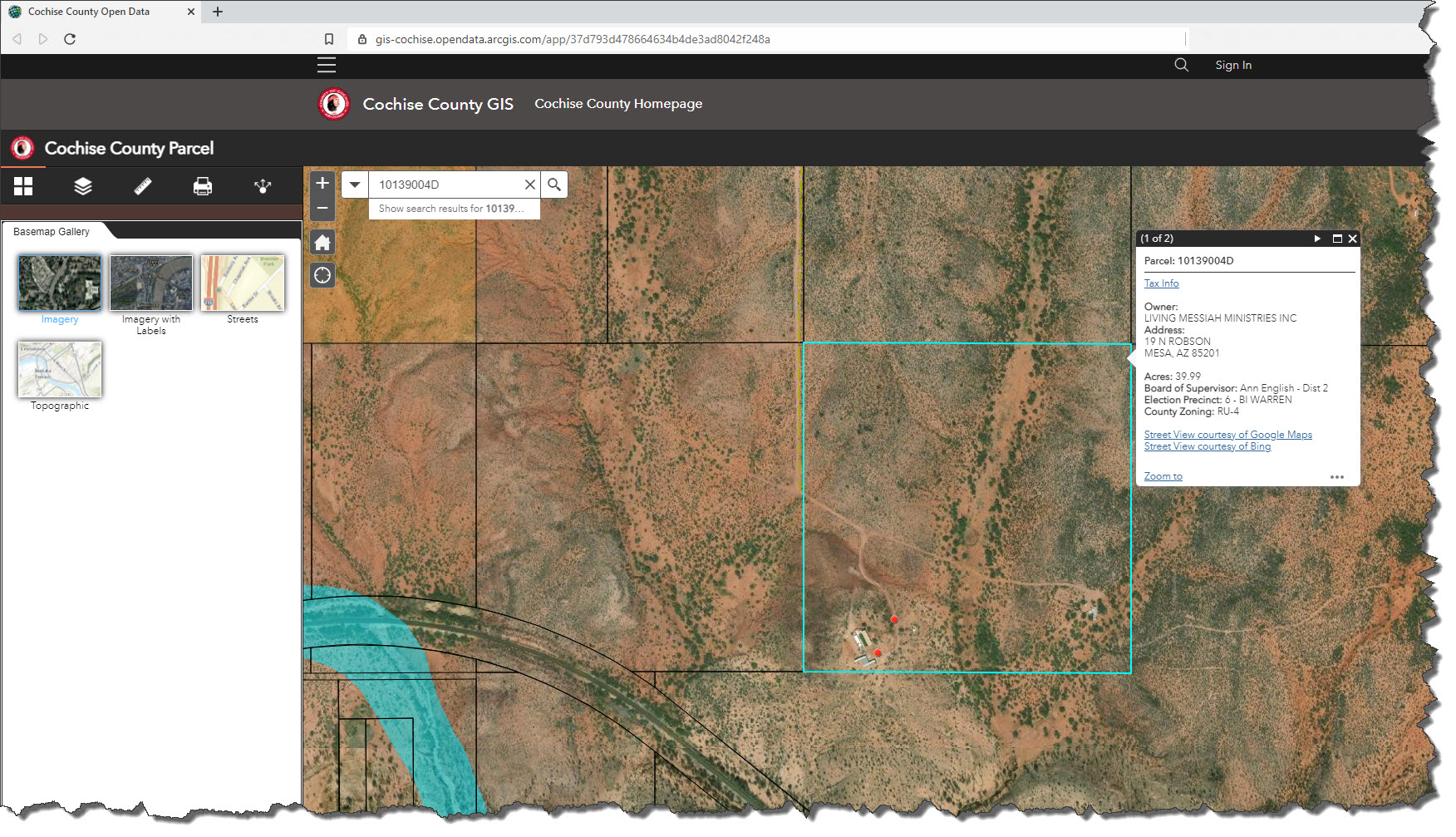 Please send us the following information in whatever format that you have it.
See the graphs below for the climate of Bisbee Arizona.
Note, the Windmill Ranch is near Bisbee Arizona but that constitutes a rather large area. The "Old City" of Bisbee is in a mountain at 5,500' and stuck in a deep canyon and so the temperatures there is going to be lower. the Windmill Ranch elevation however is 4,700' and relatively open land so it's going to be warmer. I'm not sure how much the difference in precipitation is if any (certainly the Old City is going to get more snow).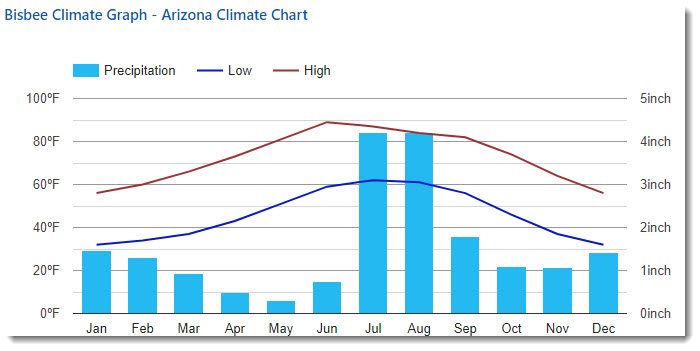 | Temperature Type | Low | High |
| --- | --- | --- |
| Average Summertime Temp | ? | ? |
| Average Wintertime Temp | ? | ? |
| Absolute high temperature | ? | ? |
| Absolute low temperature | ? | ? |
| Rainfall Type | Inches |
| --- | --- |
| Average annual rainfall | 19 Inches |
| Largest single rainfall event | ? |
Prevailing summer and winter wind patterns
ToDo: How do you get these? I found this Wind History website for KDUG: Bisbee Douglas International Airport which is 17 miles away (East by North East as the crow flies).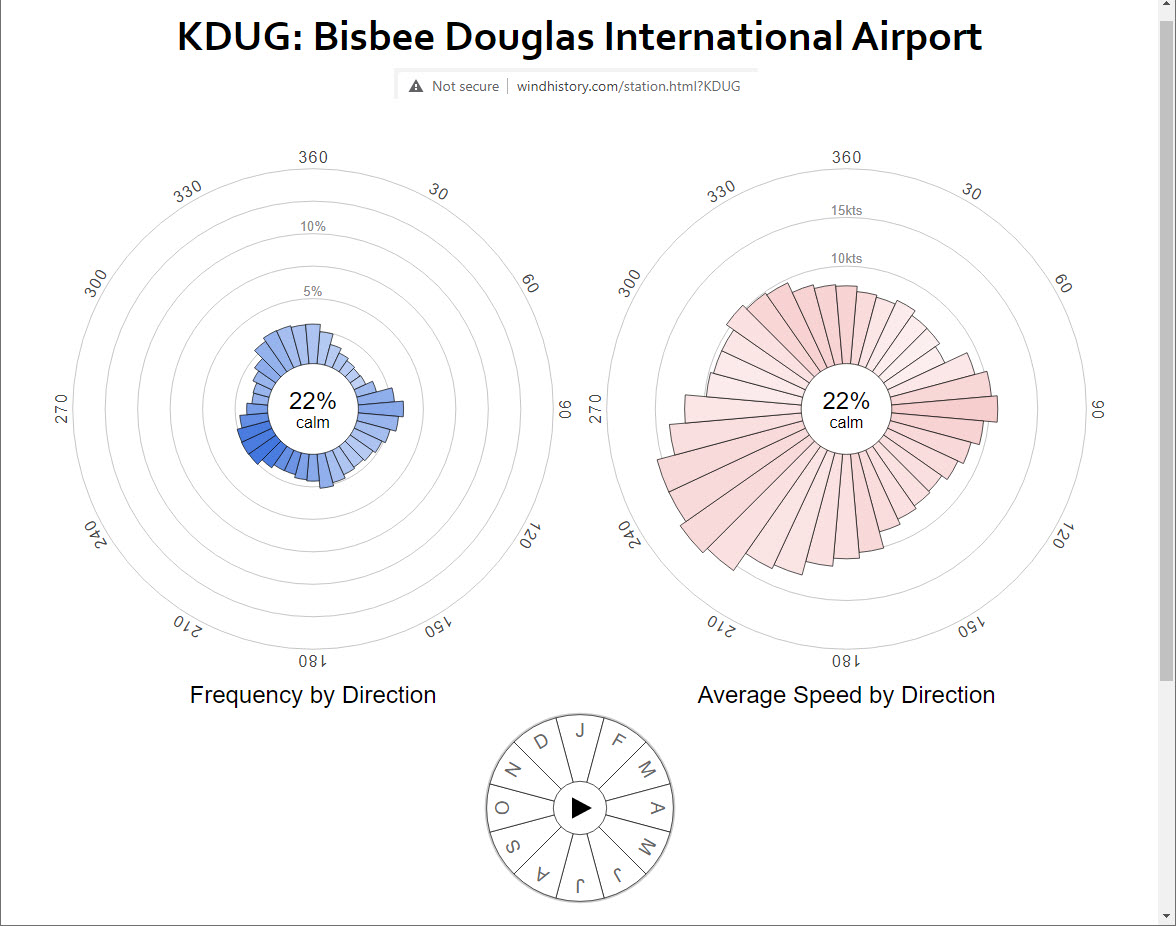 Map showing Windmill Ranch and KDUG link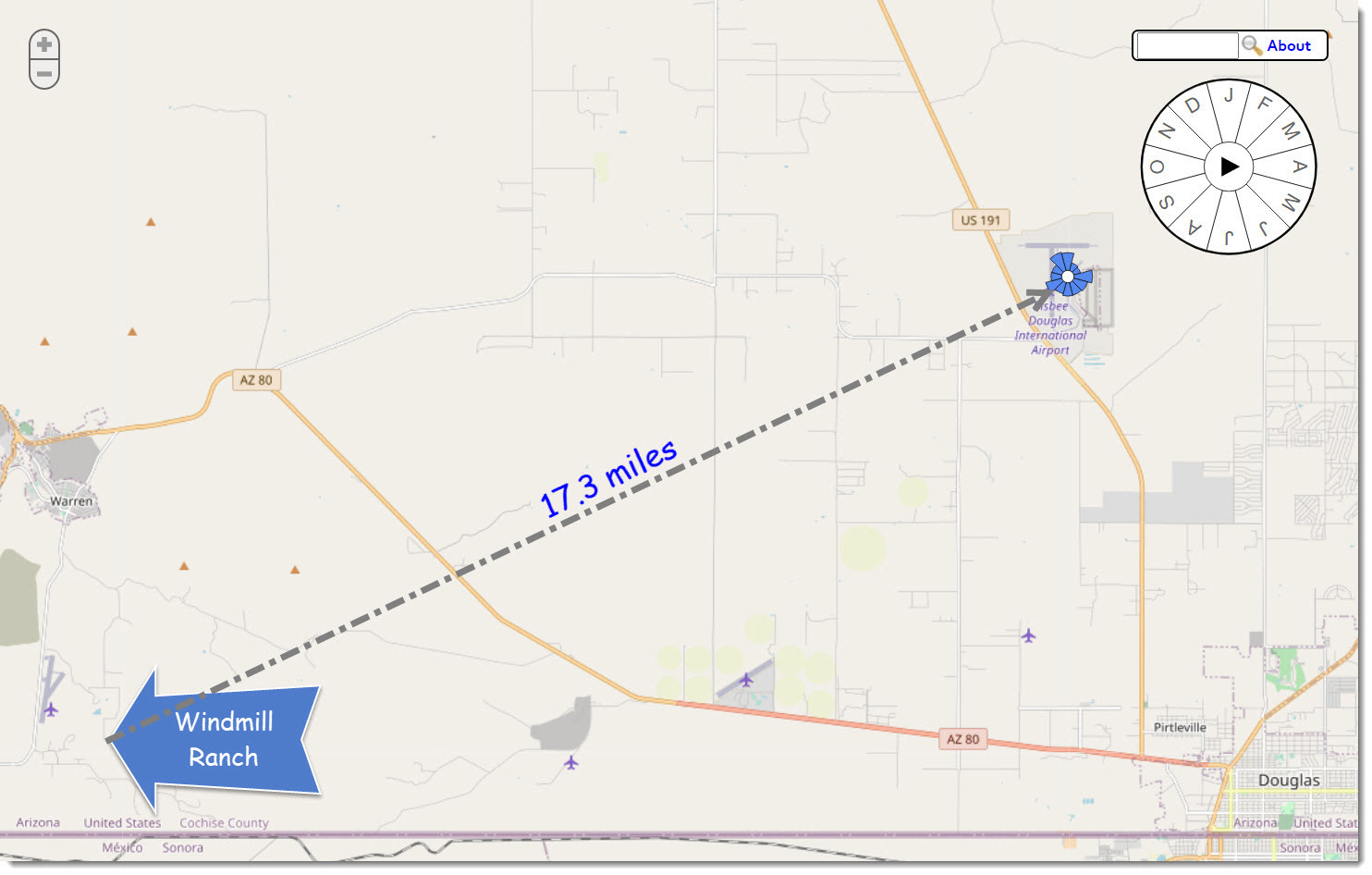 ---
Bedrock (what kind, depth to)
Soil tests (ideally from Midwest Labs, or another company that measures biologicals and CEC capacity)
Soil Cation Exchange Capacity (CEC)
For Midwest Labs, access or call 402.334.7770 and ask for the S1A Basic and S3 tests. You may order additional analyses for your samples, but the above S1A Basic and S3 covers the essentials.
Mail your soil samples and order forms to Midwest Labs:
Midwest Laboratories
13611 B Street
Omaha, NE 68144
A list of specific questions. Common examples relate to site establishment, maintenance, planting choices, and how to phase-in the next steps.
---
V. My Questions and Ideas
---
One of the tasks that your questionnaire asks of me is to get soil tests so my questions it how important are soil tests? I've been listening to various people (like Christine Jones, David Johnson) that it's the biology in the soil that really matters. My question therefore is how important are the soil tests?

Creative finance. Can you give advise on this?

Religious based community permaculture.
a. Do you have an opinion of their efficacy?
b. Are there examples that you can point to?

After you evaluate the Windmill Ranch project, can you give us a vision of what the land will look like in two or three years? This would be helpful to better "sell" the project to our congregation.

Should we get a greenhouse going? We have the frame for one, about 20' x 50', but it's not at this location and it would obviously need a cover? If you think we should set it up, where would we put it?

any thoughts on the windmill that's currently not producing water?... should we go with a solar pump or fix the leathers (that's what we are told needs to be fixed)?

Water retention / harvest
what would be best?
a. Ponds
b. Swales
c. Ponds and Swales
My thinking is that ponds are riskier (they could leak and they could fail)

What's should we do with the pond in the middle of the wash?
a. Should we apply a layer of bentonite to better hold the water?
b. Make radical changes to it's current configuration e.g. digging out more to find a layer of clay?
c. Do nothing because it's not worth messing with?
To answer this, I divided this up by areas.
Preface: I'm spitballing about my thoughts. I'm an expert because I've watched a lot of YouTube channels. 😄
The wash going through the middle of the property that covers about 8+ acres has great potential to implement mob / intensive grazing and maybe silvopastures or alley cropping. I think it is the most valuable part of the property within the context of regenerative agriculture.
By implementing the 5 principles of regenerative agriculture to the wash area we can not only hold water, but hold it where it's need, in the top soil. Whatever else we do, holding as much of the water on the property I think would be the biggest improvement that you can make and it's effect is a positive whatever else you do. Below is a picture of what I would like to accomplish. ⤵
Alejandro Carrillo's Las Damas Ranch in Chihuahua Mexico, see


Questions
What steps should we take for the initial preparation of the land? Some no-till advocates permit tilling the land for the first time to get it leveled. The wash mostly has a gentle and wide slope which I think is great. There is no gullies but there are some rills that an initial tilling might address this effectively.

Using goats to clean out the vegetation. I was thinking of a service like GoatsEatWeeds.com.

How much of the species of trees and brush that are growing in this area should be removed if any? Should they be treated as succession plants? To preserve the roots in the ground that could be used by other plants, maybe they should be coppiced / pollard?
This is Zone A.
Collecting water would be beneficial because there are roof tops and because it's elevated over most of the rest of the property.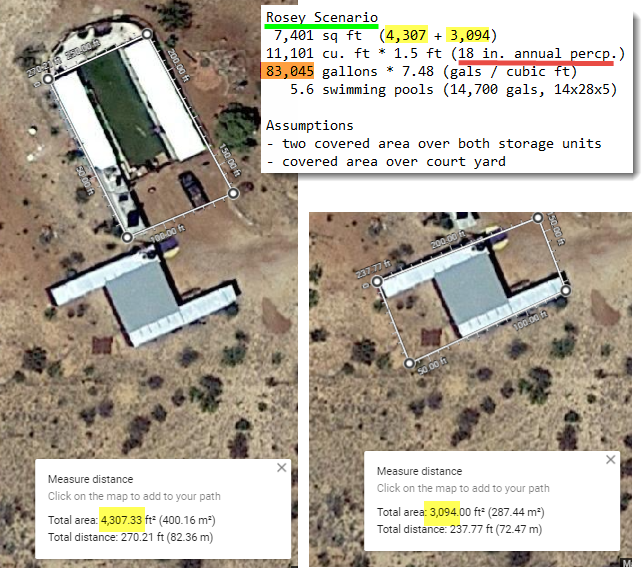 Creating a ring of swales to support new trees would be very nice.
Community type buildings. I like the idea of having a two types of structures

Big centralized buildings: worship center, community center, common kitchen, common bathrooms
Small family units: a place to sleep, an office area, place to sit and relax. Security can be added by building these family units on the edge of the mesa and have them connected by a wall. This would look nice and be like a "Shinning City on the Hill"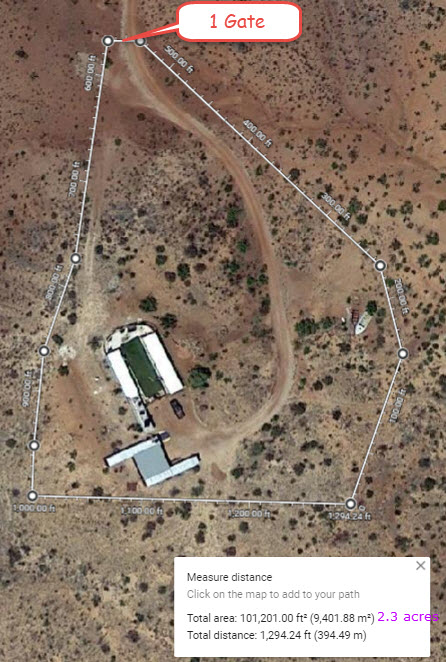 Building Reconfiguration in the long term (phase 2 or 3?). In my view this is the place where you could make the largest investment in the property because of it's view is the most desired piece of the property. The old and inefficient buildings that are there now are mobile and could be moved, so if that's a consideration in the long term, it would be wise not to build something that would make it impractical to move them when so desired.
maybe place the greenhouse near here.
ToDo
We were planning on putting in some RV spots along the ridge of the property north of the windmill road.

Pumping water from the windmill could be directed North to the ridge along the Eastern edge of the property and is a high point.
I felt it would be useful to make this list so that it will give you a perspective of where I'm coming from. It is not an exhaustive list but enough to express the values I hold relating to permaculture.
Obviously or I wouldn't have bothered to
fill out this questionnaire.
What I like about Mark is that he is not afraid to say what he means because he is trying to take permaculture practices to a higher level. To some this might be off-putting but for me it's refreshing.
I like how he emphasizes the need to scale up which is a good fit for a religious based community.
I also like that he is part of the Organic Valley Coop which enables him to sell his products and get a higher profit. Also, coops is a good fit for a religious based community (think Moshav).
I also like the emphasis on trees with Silvopastures or Agro Forestry. Trees make shade and shade in the desert is a premium.
I like the STUN approach to finding the things that want to grow on the property.
My only concern with Mark is to ask how much experience does he have in the High Desert environment. I know principles of permaculture are transportable so it could be argued that I'm answering my own question, but regardless it is a concern.
What I like about the "Permaculture Design Manual" is ideas found chapter 14. This is the only chapter I have read and I would argue should be the first chapter and not the last. Anyway, the extensive notes I took on that chapter which included injecting my thoughts from a religious based perspective was very compelling to me.
The "Great American Farm Tour" YouTube video of Justin Rhodes interviewing Joel was what got my attention regarding permaculture.
I like his unique message that comes from a Christian / Libertarian perspective.
Seeing Gabe and others (e.g. Neil Dennis ) in the Soil Carbon Cowboys video really inspired me to leverage cattle as how I would like to implement permaculture. He is the one who solidified to me the need to follow the five principles of regenerative agriculture.
Glenn employs Inherding on his Alderspring Ranch. His insights of how to go about working with cattle in an open range is useful because that is the context of the Windmill Ranch.
An obvious wealth of information which I appreciate. I like his videos on Greening the Desert. If you can do this in the harsh desert of the Jordan you can surely do this in Bisbee Arizona.
I like his fungal dominant static Johnson-Su Bio Reactor.
I like the improvement of the by Diego Footer see these videos
Part 1, Part 2 and Part 3
Alejandro Carrillo of Las Damas Ranch, Chihuahua, Mexico
I don't know much about Alejandro Carrillo but I think he would be the one whose context would be closest to the Windmill Ranch
---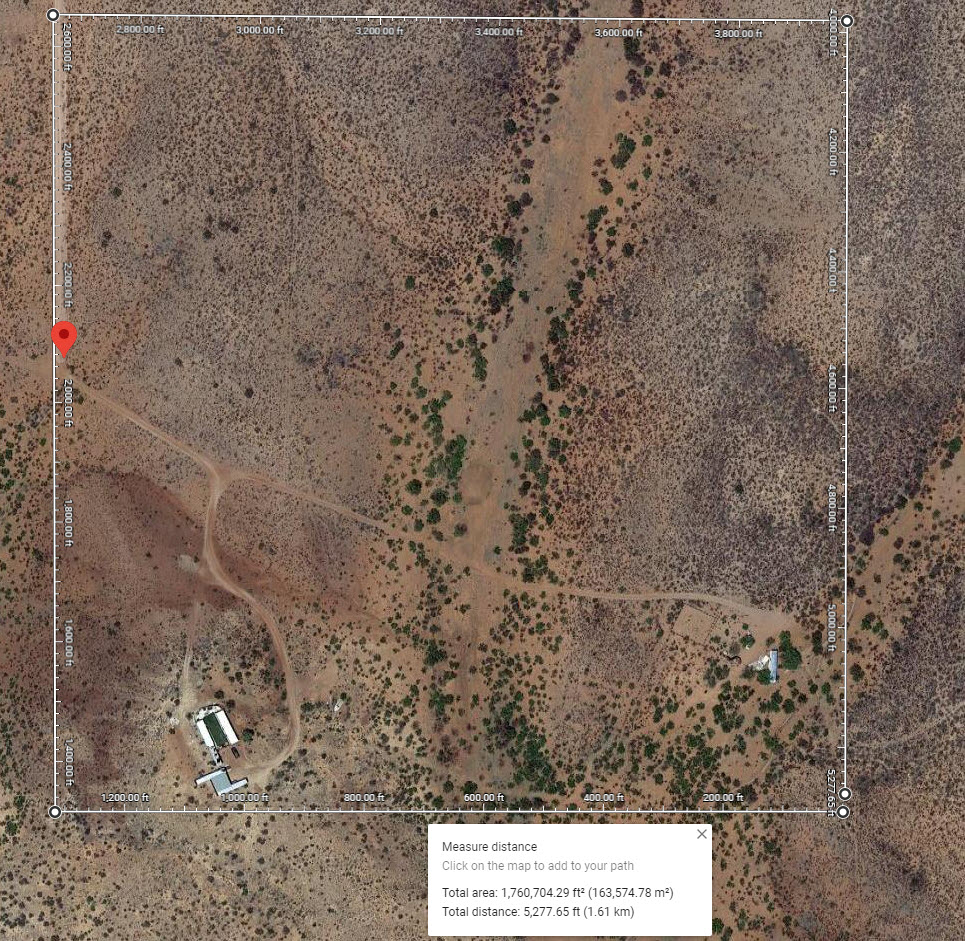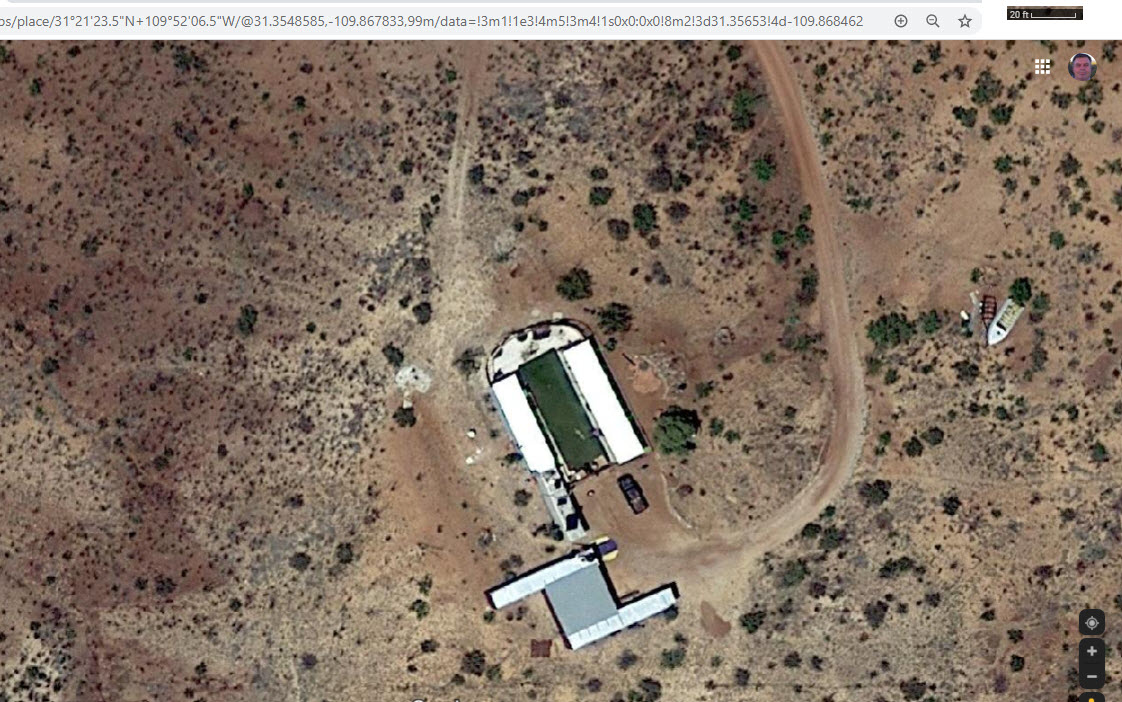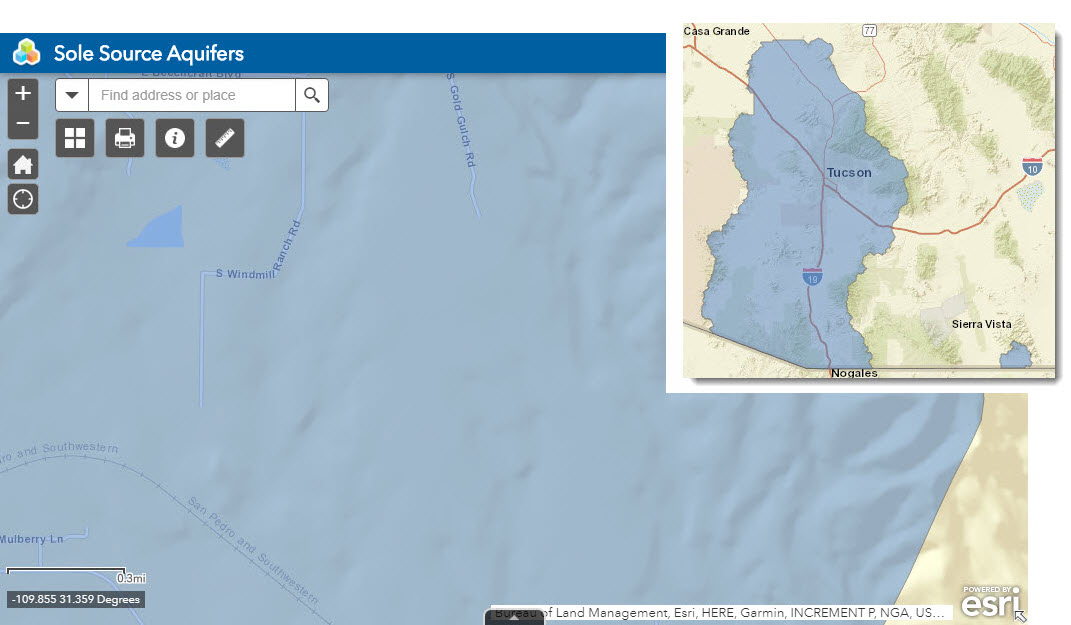 ---